Can I Replace the Lenses in my Oakley Sunglasses?
Yes! Whether your old lenses are scratched or damaged, or you just want to switch up the look of your shades with a new mirror color, it's easy to refresh your Oakley sunglasses and replace your lenses with Fuse Lenses. Fuse has hundreds of lenses available online for frames that are vintage, out of production, or just lenses you can't find anywhere else! If you aren't sure of the exact Oakley model sunglasses you have, we have resources available to help you find the right lenses.
It's easy to install your lenses at home, without fear of damaging your frames. It takes just a few steps to upgrade your Oakley sunglasses with new premium quality lenses from Fuse Lenses. You can watch our available installation videos to learn how to correctly fit your new lenses in your Oakley frames. For a fraction of the cost of new Oakley sunglasses, you can change the lenses and breathe new life into your shades in just a matter of minutes.
Top Oakley Frames
All Oakley Frames
SEE ALL
Why Fuse Lenses?
With Fuse Lenses, you can replace the lenses in any of your favorite name brand sunglasses, easily at home, all on your own! We carry lenses for many vintage, out of production, and rare frames that you just can't find lenses for anywhere else. In addition, our lenses are available in 20+ colors and lens options - options you just can't find from the original manufacturer! We always stand behind our product with a 60-day fit guarantee and included warranty on every lens purchase. We've got your back for everything from defects to "my dog ate it." What are you waiting for? Try Fuse out in your sunglasses today!
History of Oakley
With an initial investment of only $300, James Jannard started the company Oakley, named after his dog, out of his garage in 1975. What started as a small business of selling motorcycle grips throughout the United States soon expanded to the famous company we know today.
The Oakley Grip was the first product Jannard started to sell under the Oakley company. The motocross grips he sold were innovative and different than the ones the rider were used to. The main reason for this was because of the material he used to make them. Unobtainium, the material Jannard created and patented himself, was the thing that made his product very successful. To this day, unobtainium is used in Oakley glasses in its ear socks and nose pieces.
The first sunglasses Oakley manufactured was the Factory Pilot Eyeshades. They resembled goggles and these glasses were advertised towards athletic people. In 1985, Oakley released the Oakley Frogskin, which was more on the casual side. To market their sunglasses, Oakley handed out frames to athletes in the late 1980s and early 1990s. For example, cyclist Greg Le Mond wore Oakley sunglasses in 1986 when he won the Tour de France. Other famous athletes include Michael Jordan, Andre Agassi, and Bonnie Blair.
As they were building their company, Oakley also built one of the most loyal fan bases in the market. Even today, there are tons of third-party sites dedicated just to Oakley. Customers ask questions and find information about different frames, new releases, and more. If you have a question about Oakley, chances are a dedicated fan has it answered on the web.


Are my oakleys real?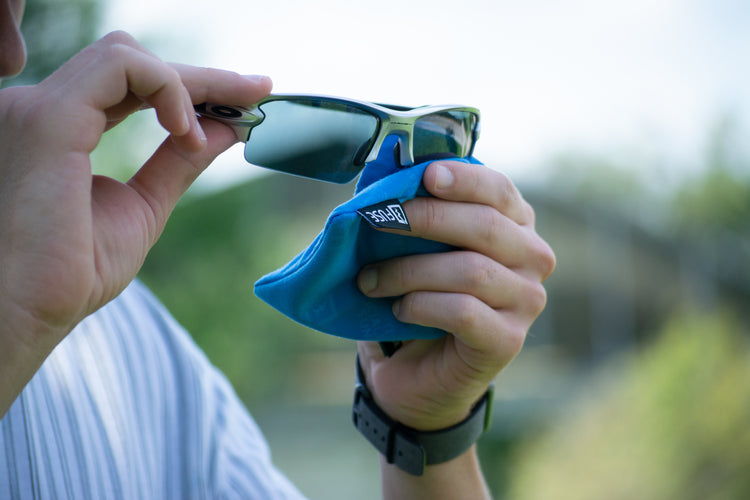 Oakley Holbrooks are one of the top-selling Oakley frames. Since it's really popular, that means its counterfeits are really popular as well. However, Oakley puts great detail into their products, so a fake Oakley frame can easily be spotted. Learn what to look for in this article.

Read More
Frame Installation Videos
Replace Oakley Holbrook Lenses
Replace Oakley Gascan Lenses
Replace Oakley Flak 2.0 Lenses